Mongoose Bike Reviews 2021 – Hybrid Bikes
In this article, we will break down the top rated Mongoose hybrid bikes in 2021. Mongoose is reputed for cheaper but quality hybrid bikes known to provide performance and efficiency at greater value.
7 Top rated Mongoose Hybrid Bike – Comparison
7 Top rated Mongoose Hybrid Bike – Reviews
The Mongoose Men's Banish 2.0 Hybrid Bike comes with different components and features and is one of the preferred hybrid bikes under $300. The bike is fitted with black alloy wheels that give it aesthetic value and offers smoothness and riding efficiency in rugged terrains. The Banish 2.0 hybrid is built with Shimano 21 speeds with rear derailleur designed for speed and stability on your long journeys.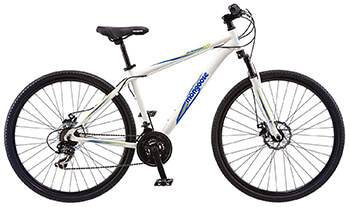 For your convenience and comfort during your rides, the bike is fitted with a 3 piece cranks and beach cruiser pedals which fit well and ensure smooth cycling when you are on the road. Being easy to ride due to its light weight, it could be considered as one of the best bikes for beginners.
With an aluminum frame and front shock the Mongoose Men's Banish 2.0 Hybrid Bike is an unbelievably light and robust bike that offers a compliant ride for urban commuting.
The bike is built with front and rear brakes for easy shifting during fitness riding and long commutes.
The bike comes partially assembled so you will need to do some adjusting and assembling on your own. Just attach handlebars, seat, front wheel, and pump up tyres. The bike is in different sizes and the secret is in choosing the perfect fit.
It's a study bike and the brakes and derailleurs work well. The Mongoose Banish 700c" hybrid bike is the perfect bike for you to cruise around, enjoy the bike paths or go for a leisurely ride.
This lightweight sport bike is equipped with an aluminum fitness-style frame with SR Sun tour nvx suspension fork which offers a responsive ride on rough terrain.
Fitted with Shimano Acera/ Altus 21- speed drivetrain with Altus Shifters, the Mongoose Reform Comp 700c Dual Sport Hybrid Bike is designed for speed and stability on challenging rides.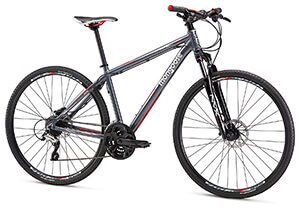 With the front and rear mongoose hydraulic disc brakes, the bike is designed to be fast and agile for sport fitness riding and tackling unexpected obstacles. It offers reliable stopping power whether on-road or off-road.
It is fitted with 700*40c Kenda happy medium 30tpi tyres for a comfortable ride in challenging terrain. It boasts of Exposure dp-29 tubeless rims to help riders shed crucial weight where it matters.
To keep you in control on the road and to help you maneuver different terrain the bike is armed with Strong kore riser bar 13 mm rise 690 mm wide handlebars and a 3D forged alloy 31.8 mm stem.
Most reviews from buyers recommend it as a fast commuter hybrid that makes an awesome weekend getaway companion as well. It is durable, strong, and its wider tyres make it suitable to ride on rougher roads and gravel paths. Getting a professional tune is recommended for that smooth ride.
What we liked
Performance at great value
What we didn't like
Price might feel high to some
The Mongoose Reform Expert 700C Hybrid Bike is made of a mongoose dual sport 29" frame to boost its robustness. The frame is light and robust allowing for swiftness and control on your rides. It proves to be a sturdy, fun and comfortable companion mile after mile.
The Reform Expert 700c bike's SR Suntour fork with remote lockout will appeal to those who are looking for smoother or compliant rides.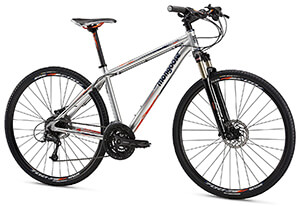 You also get Xposure Alloy QR 32H front and rear hub which is designed to improve your control during on-road and off-road performance.
For firmer grip the bike is built with Kenda Happy Medium 60 TPI 700*40c making it suitable to clutch in slippery terrains as well.
This bike is cool no doubt. Its silver color is easy on the eyes and its specifications present a great machine.
Light trails, rocky paths and long pavement rides are all in play on the Reform. The designers did a great job ensuring that if you are looking for a smooth ride, you get it from this package.
The Mongoose Hybrid bikes ride very smoothly and buyers have high expectations for them. They are easy to assemble too and it is your "go to" brand if you are looking for an excellent bike for less than $800.
Mongoose hybrid bikes are appealing to recreational users and every day commuters due to their versatility and agility. They are a perfect companion when looking for a fun ride through the city as you hang out with friends or ride for leisure. The bikes also make a good ride for fitness cycling.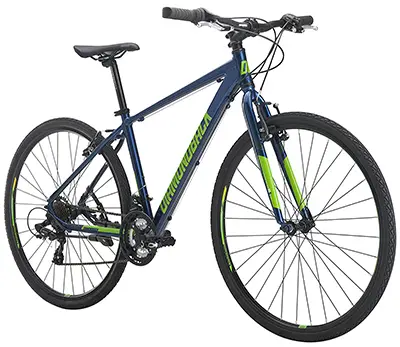 For the third position in our list, we will be features a fantastic product from the well-known brand, Mongoose. Other than being the perfect fit for smooth riding, it also saves energy with every use.
Energy Saving
The energy saving mechanism of this bike is something you will not find in most models in the marker. Basically, through the use of less suspension travel, this bicycle contributes to conserving energy in every rode. Also, as the pedals are not weighty or momentous, your legs will not get sore as fast.
Smooth Riding
For smooth riding, it is crucial for the bike to have wheels made from good quality rubber. Because the wheels on this one are relatively flexible and bouncy, you will be able to ride in the roughest of roads with great comfort.
Great performance
The performance of this specific model is worth talking about. Not only is it able to ride just as well in bad weather, but it also works smoothly in both wet and dry weather. The chain will not get jammed quickly, and the pedals do not move or twist too much.
Lightweight
Despite being made to be healthy and durable, the Mongoose bike is super lightweight. It has been made with an Aluminum frame and also features a hydraulic disc brake.
Stylish
Other than being lightweight, this boke is super smart and have a unique design. It has a 27.5″ wheel along with a moderate sized structure that is not only a great size for most riders, but the symmetry of the bike makes it pleasing to the eyes as well.
Highlighted features
Ensures the conservation of energy with less suspension travel
Wheels designed for smooth traveling
High performance even in bad weather
Light in weight and easy to move around
What we liked
Guarantees less suspension travel to save energy

Wheels have the perfect level of friction for both smooth and rough surfaces

Ensures excellent performance for a long time

Lightweight and easy to set up

Your Content Goes Here
What we didn't like
The paint might flake off sooner than expected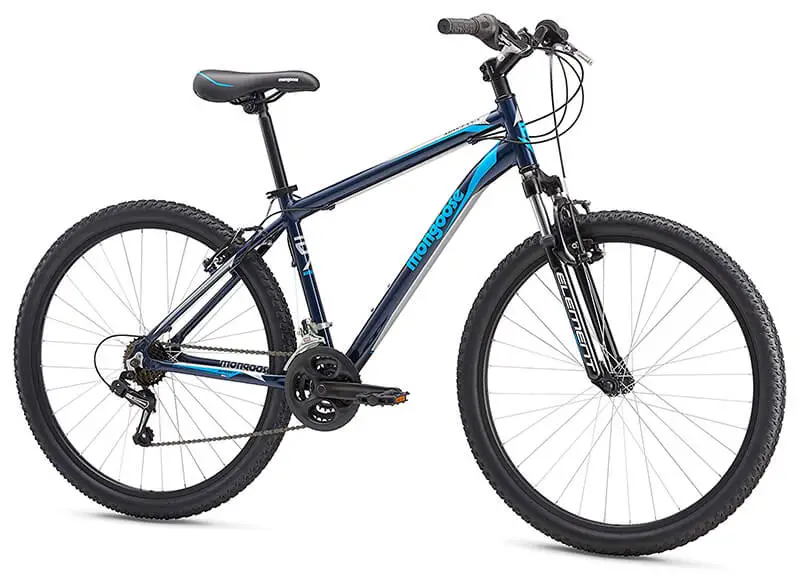 This is a sports bike from the well-known brand Mongoose. Most of the bikes from this company have stunning wheels and use an energy saving mechanism. But there is more to it that made it possible for this one to secure a spot in our list.
Lightweight
The weight of this bike is pretty much on the lower end of the spectrum. Although it is made to be very strong and long-lasting, each part is made from lightweight materials resulting in overall comfortable weight.
Durable
Being made from lightweight materials doesn't make it any less durable than the other ones in the market. Besides its stunning design, the Mongooses sports bike is made from high-quality materials that do not get damaged or rusted even after years of housing.
Energy conservation
The energy conservation technology is accessible within the Mongoose products. But it works as a significant advantage when used on a sports bike. Because in competitive riding, energy saving can increase endurance and agility, this bike helps you save energy with less suspension travel.
Safety
In terms of keeping you safe in steep trails or when riding at high speed, this bike can be a good option. It has an alloy pull V brake that is linear and can ensure a crispy stop every time.
Use of Alloy
There is a good number of parts in this bike that have been made of lightweight alloy. The rims, for example, are of fusion, and although they do not weight much, they are one of the most strong sides in the market.
Highlighted features
Light in weight and comfortable to use
Ensures energy saving with every use
Linear pull brake for safe braking
Use of durable materials with a high-quality design
Use of alloy for lightness and strength
What we liked
The weight of individual parts is low resulting in a lightweight product

Can save energy with less suspension travel mechanism

Alloy linear pull V brake ensuring comfortable brakes

Your Content Goes Here
What we didn't like
Seat placement results in hunching posture for some users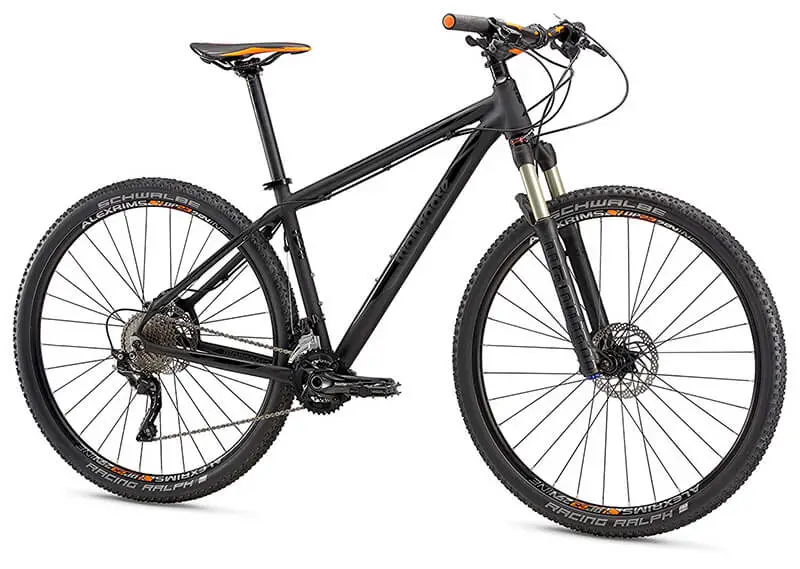 From the Mongoose line of bikes, we will now feature the Mongoose Tyax Pro. With a wheel of around 29″, this men's bike can be an excellent choice for some aggressive riding.
Smooth ride
Whether it is for competition, fun or exercise, there is no knowing when the road gets bumpy. Well even if you come across some rough roads, this bike can still offer a smooth ride with no discomfort.
Strong tires
The tires on this one are the strongest of the lot. Not only are they very well made with high-quality rubber, but it is also made to have sturdy yet comfortable friction no matter where you ride it.
Safety
Mongoose ensures you stay safe no matter which type of bike you use. This specific model has a tapered head tube that can guarantee a stiff steer without the rider feeling any bike weight. So in terms of safety, the only thing you'll need to worry about is wearing a helmet.
Easy assembly
Although this specific bike may not have more than 90% of it assembled already, it keeps its words ensuring an easy assembly. It will take you no more than an hour to assemble this entire bicycle, and you won't even need any fancy tool.
Convenient weight
The weight of the bicycle is an essential factor that we all try to overlook. But in reality, a suitable weight can make or break the performance if your bike. Because of a healthy weight, this bike can be used on steep roads and mountains with ease.
Highlighted features
Agility and sturdiness in enough roads
Strong tires for comfortable rides
Stiff yet soft steering
Easy to assemble
Convenient weight for all types of sports
What we liked
Best choice for mountain climbing

Agility and precision ensures sharp turns without slipping

Perfect weight for all types of sports

Saves time when setting up the bike

Sturdy tires for even friction throughout the entire surface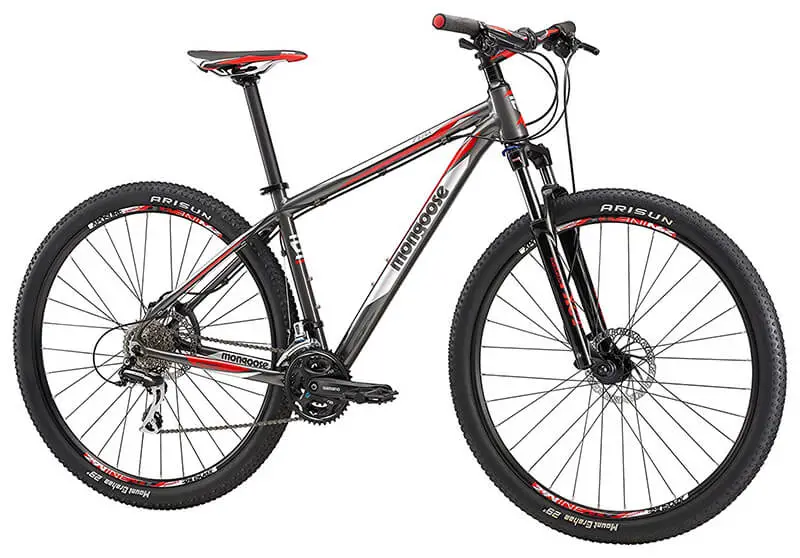 Another product from the Mongoose Men's Tyax line is the Tyax sport that features a 29″ wheel as well. By the name, we can understand that put of all the mongoose bikes features; this one was made to be a sports bike.
Agility
The agility of this bike is spot on. Because sports riding contains a lot of tight turns and steep hills to ride across, this bike can keep its readiness in check even in the toughest of times.
Lightweight
This one is made with an Aluminium frame as well as a top-notch hydraulic disc brake. As a result, it is also very light in terms of weight.
Safe use
The safety features on this bike make it worth every penny. Along with a tapered headtube, this also has an extra steel blade to ensure accuracy in steering. This added steel is also used in a way that it does not increase the weight of the bike.
Comfortable
Being a sportbike, the Mongoose tax has to go through prolonged usage even in the worst weather. That is why a comfortable seat and rubber pedals are added to give you the highest level of comfort.
Durable
Durability is crucial for a sports bike. Just because you use your bike for aggressive riding, does not mean you would want to change your bike every few months. Well, because of the Aluminum frame and the string steel blades this bike will last for generations.
Highlighted features
Increased agility for long use
Made to be light in weight
Stiff yet comfortable brake
Comfortable wheel friction and seat
High-quality materials used for more prolonged use
What we liked
Agile enough for long mountain and road riding

Made light with sturdy Aluminium frame

Safe steering featuring a hydraulic disc brake and added steering stiffness

Perfect for both smooth and rough surfaces
Unique Specialties of Mongoose Hybrid Bike
Not many buyers have given thorough Mongoose Bike Reviews though these dual sport hybrids are suitable for light trails, rocky paths and long pavement rides. The brand offers excellent bikes which make commuting fun.
They are made from the best bits of both the standard road bikes and mountain bikes. They are customized for speed like a road bike and with the durability of a mountain bike. They are as comfortable as cruisers and the hybrids are built for everyday riding.
Final words
Hybrid bikes are known for their versatility, light weight and their ease of riding. To make the best buy be sure to get the exact specifications. Nothing beats a hybrid bike that meets your requirements. You will definitely enjoy the experience if only you get it right. Mongoose hybrid bikes offer the best riding experience to recreational users and every day commuters due to their versatility and agility. They are a perfect companion for fitness cycling and for riders looking for an enjoyable ride through the city as you hang out with friends. Choose a Mongoose Bike ride for that exceptional biking experience any day.