Best Road Bike Glasses Reviews – 2019
For bikers sunglasses are a big deal. Whether you are hitting the city, mountains, or road racing for leisure, sunglasses make up for one of the greatest biking gears. They play a very vital role in protecting a biker's eyes from the bright sunlight and its harmful UV rays, wind, low branches, biking trail debris, and flying insect.
It is therefore very important that every biker should have one of these in their biking accessory bag. But how will you get the right biking sunglasses for your use? With many sunglasses brands in the market today, this could be a little tricky! Choosing from the many designs, models, and styles can also be very confusing too.
Often many bikers would wonder what color to go for, which size to fit in, which prices to go with, and possibly what frames to buy! Well you don't have to wonder anymore. When it comes to keeping your eyes safe during your biking expeditions, we have the perfect biking sunglasses solution for you and many more tips.
In this article, we have highlighted some of the Best Biking Sunglasses Reviews and how to choose the best model for your use. To arrive at this selection, we have rounded up hundreds of sunglasses and reviewed them on many fronts. We have looked at user reviews, models, brands, bestselling styles, and many other things.
Here are out top 5 rated cycling sunglasses plus their reviews! Enjoy.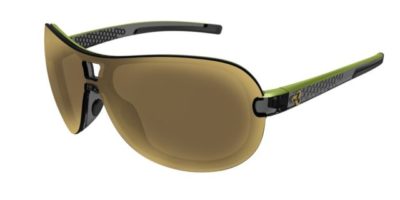 Almost every cyclist has heard about the non-polarized Ryders Aero Fyre Sunglasses + Anti-Fog. It has been lauded by some of the best biking sunglasses reviews as the sunglasses with the modern touch.
These biking sunglasses enjoy a highly durable hard plastic frame design, stylish plastic lens, and hydrophilic nose pads. In fact it also has temple tips and three replaceable nose pads with a customized fit.
And one reason why we loved this set of biking gear for is the FYRE lens and you will too! The lens is highly responsive to its surroundings, it is always in a constant state of reaction adapting to every lighting conditions, enhancing colors, and giving the right weight on the eyes.
The result of using this sunglass is amazing as you experience a crystal clear visual touch with a highly optimized lens. Get the Ryders Aero Fyre Sunglasses and enjoy an awesome Anti-Fog technology now!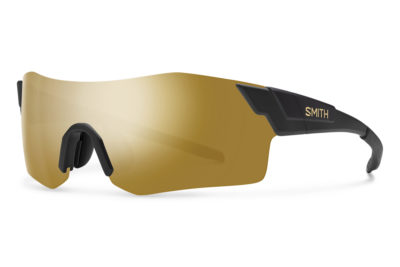 The other sunglasses that bikers love are the Smith Pivlock Arena Max ChromaPop Sunglasses. Designed to provide a larger lens profile, this set of biking gear helps to increase coverage and enhance the customized fit for larger lenses.
It provides the highest levels of color and clarity and comes with the ChromaPop Sunglasses and contrast rose flash lens to support and enhance the same. But of more importance is the Hydroleophobic lens coating that makes it easy to use.
The sunglasses enjoy a highly durable TR90 frame and two-position adjustable nose pads with slide-on temple tips.
Personally, I loved these sunglasses because as they move towards the sun's UV rays they boost the most vital tones and accelerates the recognition of the surrounding as compared normal human eye.
Buy the Smith Pivlock Arena Max ChromaPop Sunglasses and enjoy the top impact resistance upon any threat, 7×4 Toric lens Curvature, and superior optics.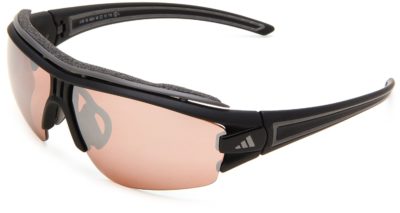 Adidas has been around for as long as we can all remember. Therefore, it is no surprise that it makes this list.
The Adidas Evil Eye Halfrim Pro S Sunglasses is superior in every sense. From design, style, and materials, this set is simply cool. You don't have to sweat once you buy them. They are easy to fix and comes with a stylish make.
It boasts of composite lens, highly durable Grilamid TR90 resin frame, and 100% UV protection coating! And like many other Best Cycling Sunglasses that we will have here, this set is non-polarized!
But for a brand whose sporting products range from top rated shoes, apparels, and accessories, there isn't a shred of doubt that this set of sunglasses are indeed a top pick if you choose to go with them.
The Adidas Evil Eye Halfrim Pro S Sunglasses is reserved for bikers who love quick vision adaptability to their surroundings.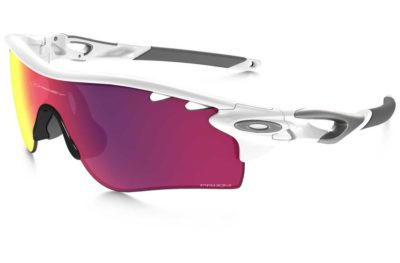 Many pro bikers love Oakley Radarlock Prizm Sunglasses and more specifically because of their fiery and stylish designs and also due to their strong polycarbonate lenses.
More importantly, the sunglasses are polarized and will, therefore, adapt pretty fast to any surroundings leaving you with a crystal clear vision.
If you choose to go with Oakley Radarlock be sure to enjoy the best Plutonite lenses too. Like we have mentioned above these polycarbonate lenses are highly dependable upon impact and will last long.
This is the only set of sunglasses that is polarized with a prizm trail in this list and whose lenses are indeed interchangeable with a superior switch lock system.
You don't have to worry about the road. As long as you have Oakley Radarlock Prizm Sunglasses, the world will present more vivid colors and leave you without any form of stress in the eyes!
Purchase these ultra-durable, lightweight, and stylish sunglasses and get the best Hydrophilic Unobtanium temple pads that will prevent your shades from slipping even under sudden downpour
5.

Julbo Aero Sunglasses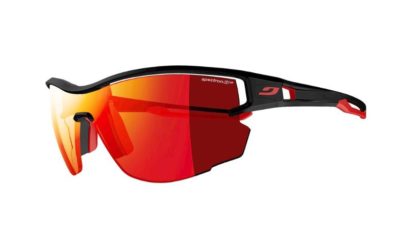 If you are choosing cycling sunglasses and wants a great deal for a stylish and highly dependable set, Julbo Aero Sunglasses will save your day!
Simply stylish with a panoramic view, Julbo Aero comes with a 3D Fit Nose design that has adjustable wing tips. They are good at giving you the tight hold as you adapt to your surroundings.
The design is fully aerated with a vented touch and offers an ideal ventilated touch that allows for complete air circulation and no fog build up.
In short, anyone who buys the Julbo Aero Sunglasses has nothing to worry about even in the blurriest of weathers.
Its grip tech-inserts boost its hold that allows the lenses to remain in place and keep the natural air flow all through the ride.
These sunglasses have patented the Air Link Temple Technology and have the elastomer for absorbing shock and for improving comfort.
If you love comfort under your cycling expeditions, choose Julbo Aero Sunglasses for the lighter touch and an improved feel against your face
How to Choose the Best Cycling Sunglasses
The tips are many, but the most vital ones and which every biker should have in mind when buying cycling sunglasses include the following:-
Lenses
Lenses should be large. They should be able to wrap around your face to the sides and they should protect your face especially from wind, debris, road pebbles, and any other objects that could threaten your eyes.
Polarized Vs. Non-Polarized
Polarized lenses will filter the horizontally reflected glare automatically. This prevents the strange effect that most of us get when looking at a vast stretch of road under sunlight. Polarized lenses will, therefore, leave you with a crystal clear vision.
Polarized lenses also block UVA and UVB light from reaching your eyes. And this is a great plus. But don't worry even non-polarized lenses block them too. Latest designs have upped their game to keep these harmful rays away.
Make a choice that befits you. However, the one thing that you should remember is this, polarized lenses are however very difficult to use when reading LCD screens and GPS devices.
Full Vs. Half Frame
Half frame sunglasses will leave you with a better field of sight. It is also easy to change lenses on such a frame if you wanted to. Full frame is however studier, clearer, and quite durable in all fronts.
Grip
You need the sunglasses to be secured to your face. Getting the best grip is therefore very vital. Make sure that the sunglasses that you buy have rubber detailing. The best areas to have this are around the arms and clamp of the nose.
Fit
Even if you bought the priciest sunglasses in the market, without a perfect fit, they would be rendered useless!
Get sunglasses that fit you perfectly. Don't go for a set that's too big, too wide, or too small. Larger sunglasses will fall off even before you jump on your bike while glasses that are small won't give you enough coverage.
You don't want glasses that sit so close to your eyes as they will blur your vision. They will steam up during winter and collect sweat in summer. This can be quite uncomfortable once you are on the road.
To get the best sunglasses make sure you maintain between 4 mm and 5 mm of space between the face and the lens.
Best Cycling Sunglasses: FAQs
Here are some of the major concerns that most bikers often have when they want to get the best sunglasses for cycling.
What are Polarized Sunglasses?
They are sunglasses that filter horizontally reflected glare automatically. They prevent the strange effect that most of the cyclers get when looking at a vast stretch of road under sunlight to leave you with a crystal clear vision.
What is the Disadvantage of Polarized Lenses?
Polarized lenses are however very difficult to use when reading LCD screens and GPS devices. But if you don't mind, it's nothing to worry about!
How Does Transition Lenses Work?
These are lenses with special dyes. They react to UV rays by darkening. How darker they become depends on how intense the UV rays are.
What are Photochromic Lenses?
They are also known as transitions lenses that react to UV rays by darkening.
What are the Advantages of Photochromic Lenses?
They have greater visibility and protection in one pair of sunglasses. They prevent glare and strain when riding the bike.
Like we have seen, there are a number of good cycling sunglasses out there. However, before settle down for your best choice, it is important to find the Best Biking Sunglasses Reviews and also to watch out for the tips that we have given. Click here for more tips about cycling!