Five Best Bike Locks Review 2021: A Buyer's Guide
If you love bikes then you know by now that your bike is one of your most prized possessions. This alone is enough proof that you'd do anything to ensure that your bike is safe. Whether you have it locked up in your home garage, the backyard, or across the parking meter, you always want your bike to be free from thieves.
Bike locks are some of the best anti-theft devices you could use to keep your bike safe. They are super ideal for securing your bike on parking lots, across posts, and along the mall's pavements. But not every bike lock is the best. We took our time to test and compile a list of the top five best bike locks and here is what we found.
4 top rated Bike Locks– Reviews
A 12 MM six-sided design is what makes the Kryptonite New York 1275 Noose Bicycle Chain Bike Lock stand out. It also comes with a chain link made of hardened steel alloy usually 3T steel alloy for maximum strength.
The chain link makes the bike lock easy to use across posts, crossbars, and rails. It is a dependable way of keeping your bike safe and making sure that you can always shop for groceries or train your body stress-free.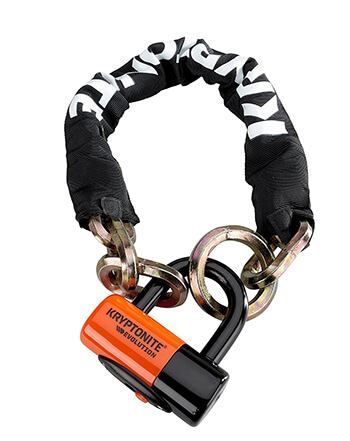 Additionally, the lock comes with a clinch loop that allows you to use less chain but ensures that your bicycle is effectively locked up. And don't worry about the chain link. The best part about it is this; it offers nearly the same length that you'd enjoy if you used the conventional 3.5" chain.
The chain link is also very portable and less bulk. You also get to enjoy a durable protective nylon cover that comes with hook and loop fasteners to hold your bike in place.
The lock also includes a 4 disc lock with a maximum performance 14 mm steel shackle and a high strength disc cylinder that has a reinforced anti drill and pull protection capabilities for maximum protection.
Finally, it has a double deadbolt locking for maximum holding power and sliding dustcovers to protect the cylinder.
The Kryptonite New York Fahgettaboudit Mini U Lock tops our list. Well, it is small but very versatile. It is quite dependable and will keep your bike safe around the school, shopping mall, or in the park.
The lock is made out of 18mm hardened steel alloy. The steel shackle provides maximum performance and easily resists bolt cutters thus keeping your bike safe.
Additionally, it comes with patented oversized hardened sleeve made out of steel alloy. The steel boosts your bike security and runs over the crossbar and the post to fasten your bike in place and safe from the hoodlums.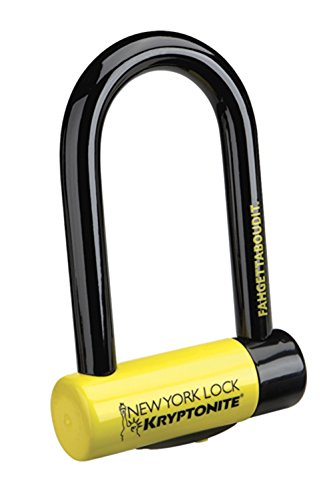 And for a more extensive power, you can always count on the locks double deadbolt locking mechanism and high-security disc-style cylinder. But the best part is that the U-Lock is made with a protective vinyl coating that keeps it safe from dust and damage.
The ABUS Granit X-Plus 540/160 U – Lock may look really slim, but don't be deceived – it's a really powerful bike lock. It offers a level 15 bike lock security and quite resistant to any form of picking.
It is also resistant to high pulling and offers a double locking technology. The best part about this bike lock is the maximum power steel alloy that offers top security and doubles up for high style longevity.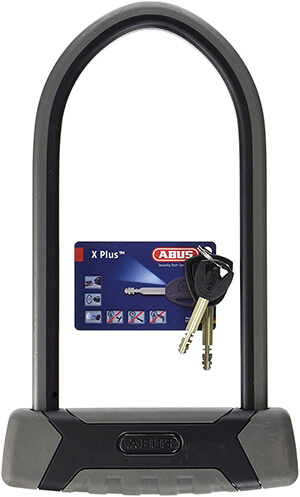 The lock offers a double deadbolt locking power and comes with a high-end disc style cylinder that will easily defend it plus your bike from any impending attacks. Indeed if you want an all-around city lock for your bike, think of the ABUS Granit X-Plus U – Lock!
Better still the lock will give you value for your money. It has sliding dustcover that protects and also extends the life of your X-Plus cylinder. It is also very convenient for multi locks or homes with many types of bikes.
The 13 MM tempered high steel square shackle may seem like a no brainer for thieves but it offers the highest protection ever know for bicycles. It also offers a high style corrosion resistance that ensures the lock lasts for long.
And above all that you can enjoy two keys that come with lock (one comes with LED light and an automatic keyhole cover to protect it against dirt and any form of corrosion).
OnGuard Bulldog Mini U-Lock is another great lock that we tested. We also found out that it enjoyed a good number of positive reviews and a cool rating in the many online selling shops that we visited.
U-Lock's Bulldog level protection is awesome. It is ideal for people who want to hit the road fast but love to keep light. It offers an X2P double bolt lock high power security that keeps your bike safe from picking.
The lock's new Z-Cylinder is bump proof and offers high-end resistance against any form of picking, drilling, or pulling. It comes with a security rating level of 63 and will allow you to easily enjoy a piece of mind once your bike is kept under lock and key.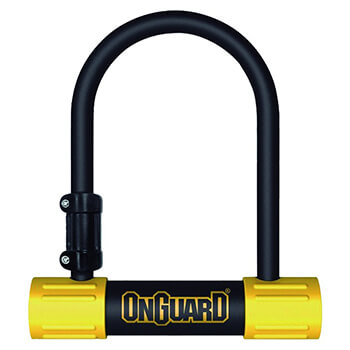 The lock is ideal for school, commuter bikes, parks, crowded malls, and sporting facilities. It has a Snap Lock Quick Release Technology that makes it easy to use and also comes with a multi-position mounting bracket.
If you used the OnGuard Bulldog Mini U-Lock on your bike and someone breaks in, they will definitely realize they hit on the wrong guy. That's how dependable the lock is. Many users agree that they have survived many bike picking attempts because of this cool lock.
Finally comes in the Master Lock Street Cuff Bike Lock. Like the many best bike lock reviews will show you, this lock is awesome for both indoor and outdoor use. You can use it to lock your bike in your garage or around the shopping mall.
It is very safe and quite dependable. Many people have also used for motorcycles and scooters apart from street bikes. It is compact and light in weight and comes in the form of a cuff. This makes it easy to fit in the tightest spots.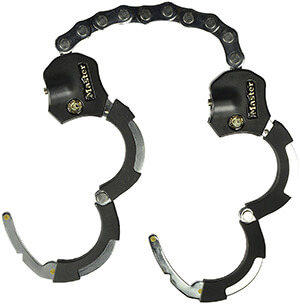 The cuff design also makes it pretty easy to use against posts, rail bars, and parking meters. The best part is the lock offers a keyless locking system that adds more convenience.
Many users, however, hail this lock because of its hardened steel alloy design. The steel is also laminated and makes it impossible to cut. Its pivoting link also prevents fixed anchor points and thus keeps off any use of leverage.
This 3.5-pound lock is greatly dependable. It offers a 21.5" long cuff street design in an overall length of 3 inches. You can count on it even when you turn your back to your bike.
Choosing the Best Bike Lock for Your Use
You may think that your bike shed or garage is safe for your bike – so no need for a bike lock! Well statistics say otherwise, research has it that close to 60% of bike thefts happen from home. So before you write of bike locks, think again. The best bike lock will offer the best anti-theft qualities; and here is what you must consider when buying.
Type of Bike Locks
There are a number of bike lock designs that can offer high-level security power. But the choice depends on your buying preferences, needs, and style. Here are some of the best locks to choose from.
Cable Bike Locks
These are forged from a coiled metal cable. They can also be made of woven cables. They are usually encased in a plastic coating. They are cheap and won't offer the type of security you need.
Chain Bike Locks
They are made of thick steel links. They cannot be easily cut with bolt cutters. However, the cheaper versions are never up to par. They might even be picked easily with the thieves.
Folding Bike Lock
Like the name suggests they are easy to fold. They come in a series of flat links. They are versatile and can easily slip through posts, furniture, and mesh.
The Bike D-Locks
These are secure. They come with level 15 plus security. They are made of D-Shackles like our number one choice. The steel alloy used in these locks is of high quality. D Locks are the real deal.
Strength of Locks
The strength of your bike lock is what keeps it safe from picking and cutting. In many occasions, a strong long will be determined by the material that it is forged from. D-Locks, for instance, are made out of heavy steel alloy that makes them impenetrable. That's why they are some of the very best.
Weight of Locks
A heavy lock is cool; but not in the line of security. What we mean is, if a lock is heavy, it doesn't outrightly guarantee that it will be secure – hell no! Usually, bikers need something that's easy to carry around and one that doesn't feel like an added burden. So think about locking power and portability. And if it comes with a little weight, the better!
How it Locks
This is often referred to as the locking style, technology, or mechanism. So don't get confused when you bump on it from other best bike locks reviews. The most common options work with keys and combination codes. Choose what you love and what fits your needs.
Lock Coating
Eventually, your lock's paint will peel off. Don't just concentrate on the security, have a little style too and get a great lock that comes with a good stylish coating on the top.
Frequently Asked Questions About Bike Locks?
Which Bike Lock Security Level is the Best?
Bike locks that offer level 15 plus security are usually very ideal. They are dependable and will make your work easy. You don't have to keep turning around to check on who's going to pick your bike next.
How Can I Make Sure that My Lock Lasts?
Looking for a bike lock that is forged from durable materials such as steel alloy is one way. You can also look a top finish lock with great coating. Such a coating should allow you to enjoy scratch-free features.
What Other Features Should a Bike Lock Have?
A great lock should have a disc lock with a maximum performance a more than 14 mm steel shackle and a high strength disc cylinder. Such a combination is ideal in keeping any thief away.
Can I Get a Great Bike Lock for Less?
Yes. That's possible if you look out for offers such as price discounts, freebies, shipping costs. If shipping costs are covered you could save a dollar.
There you have it, a simple and easy to follow guide to choosing the best bike locks. We believe the guide has helped you and you can now make a great personal choice among our top five picks. Choosing the best bike lock has never been easier. And if you want more tips, remember we spend so much time finding out the best biking tips for you. Feel free to visit our website anytime for more tips.